Sunday, September 5, 2010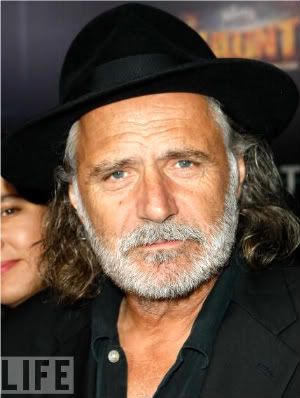 Jolie convinced him to read the script, he changed his mind, now says "The text is fantastic."




Rade Serbedzija, who is considered one of the most famous actors in Yugoslavia turned down Angelina's offer to appear in her new love story movie. Bu then changed his mind afterwards because Angelina contacted him and told him about the script and story.

Here is part of the interview in which he talks about the new movie. (SPOILER ALERT)

'Apart from being a brilliant actress and a beautiful woman, what I like the most about Angelina Jolie is her humanity and wish to help the poor, the sick and those in need in all parts of the world', Rade Šerbedžija says in his interview with the 'Blic' by which he dispersed numerous speculations circulating in the region from the moment Jolie had offered him a role in her new film dealing with a love life between a Serb and a Muslim woman during civil war in former Yugoslavia.
'For almost two months already I have been in contact with Angelina Jolie. She tried to contact me via my agents and they told her that I am not acting in movies on war in former Yugoslavia. I rejected all offers because scenarios were mainly poor and onesided', Šerbedžija says.

Q: With black and white picture of what was going on here with Serbs as the only guilty party?
'Yes. When she was told why I had rejected her offer, Angelina contacted me by phone and asked me to read the scenario. The text is fantastic. [Highlight for Spoilers] It is a love story about a young Serb and a Muslim woman who fell in love several evenings before beginning of war in Bosnia. That's how film begins. Then follows war madness. The action follows war events with young Muslim woman ending up in a Serbian concentration camp from where she is somehow saved by the young Serb. Their love becomes passionate but impossible'.

Q: Angelina wrote the scenario herself, didn't she?

'Yes, she did after she had heard a true story. It is not true that it is an anti-Serbian film. She yesterday sent me a mail explaining she was aware how painful the topic in this area is. It is not true either that she has talked about production of the film with anybody here. The shooting of scenes shall be in Sarajevo and Budapest'.

Q: What is your character?
'I am playing father of the main hero, a Serbian patriot. That is a very good character. He is a nationalist, but not a negative character. The story about him is very complex. He is a man with traumas from the WWII whose whole family was killed. He has that tragedy in himself and his nationalism is arising from it'.
Posted by

Admin
at Sunday, September 05, 2010