Saturday, October 30, 2010
David Arquette still can't stop talking about his personal life.

Even though he was ushered down the carpet last night at The Legend of Hallowedega premiere by a publicist who insisted on no personal questions, David brought up Courteney himself inside while introducing the film...

Onstage at Beacher's Madhouse to introduce the short film he starred in, Arquette couldn't help himself. "I got to go to Alabama [to film], where my wife is from," he began, before breaking into laughter, "You gotta laugh and have a good time with it...no matter what the f--k's going on."

David said he "got Method" for the role, which he plays a crazy ghost hunter. He went to share a story about a time he stayed out all night before shooting the next day, and how he hitchhiked in a coincidentally named town.

"It was in Aniston, which was an omen," he said of the long night, "I took a picture and sent it to Jen."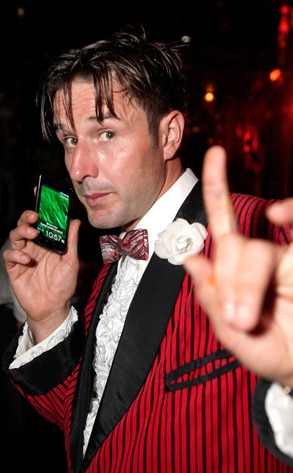 Although David's heading to Vegas today with his Beacher's Madhouse partner, Jeff Beacher, he'll be back to take daughter Coco trick-or-treating with Courteney on Sunday.

"Coco is going to be a bumblebee and Courteney is going to be a sunflower...I'll put on a flower suit," he told reporters at the party, which was sponsored by Amp Energy Juice.

Nice to see he doesn't mind donning a girly costume for the sake of his family.


Source: EOnlne
Posted by

Admin
at Saturday, October 30, 2010