Sunday, October 3, 2010
What's next for Mitchell and Cameron? E! Online caught up with Jesse Tyler Ferguson and Eric Stonestreet this weekend at L.A.'s London Hotel, where they helped PFLAG honor Ryan Murphy and The Kids Are All Right director Lisa Cholodenko...

Are you guys happy that the gay kiss is behind you?
JTF: I'm glad it's out there, [and] now we're getting the, "Was it enough?" question, but that's fine. We were prepared for it.

Like, Was the kiss big enough?
JTF: Yeah. We're very happy with the episode. We're very proud of it. It was told in the way Modern Family should tell it. It was very integral to the story. We're really pleased with it.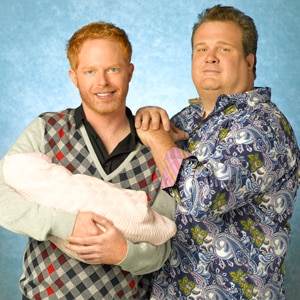 What are you going to do when there's another campaign like...
JTF: Like, "Let Mitch and Cameron tongue"?
ES: I said there's going to be a campaign to let Lily talk. Let's let Lily talk because we've been denying her the opportunity. [Laughs]
JTF: The show's in very good hands. The fans, we love to hear their comments but we got it! We got it under control. They can rest at ease. We've got the show under control.
ES: We got their back.

Eric, you told us you were going to send your Emmy to your parents if you won.
ES: I'm going to give it to them at Christmas when I go home for the holidays. They know they're getting it. I know they'll get a big kick out of having it and showing it to their friends and just seeing everyday that their sacrifices paid off. It's in my house now. My friends are coming over and getting pictures.

SOURCE
Posted by

Admin
at Sunday, October 03, 2010